Recent Charity Events & News -
Hemalkasa Health Foundation UK in colloboration with Essel Vision presented the super hit Marathi movie "SAIRAT" in UK recently.

The movie scaled another height with a premiere at very prestigious venue, BAFTA theatre, London W1J 9LN on Saturday, 9th July 2016, followed by two more shows in Birmingham (10th July) and Harrow (16th July).
It was a unique opportunity of seeing a movie with Ajay Atul's soul stirring melodies in one of the most spectacular venues, which the supporting crowd enjoyed thoroughly.

The proceedings resulted in a collection of over £6000 for Hemalkasa Health Foundation, UK (the detailed report to follow).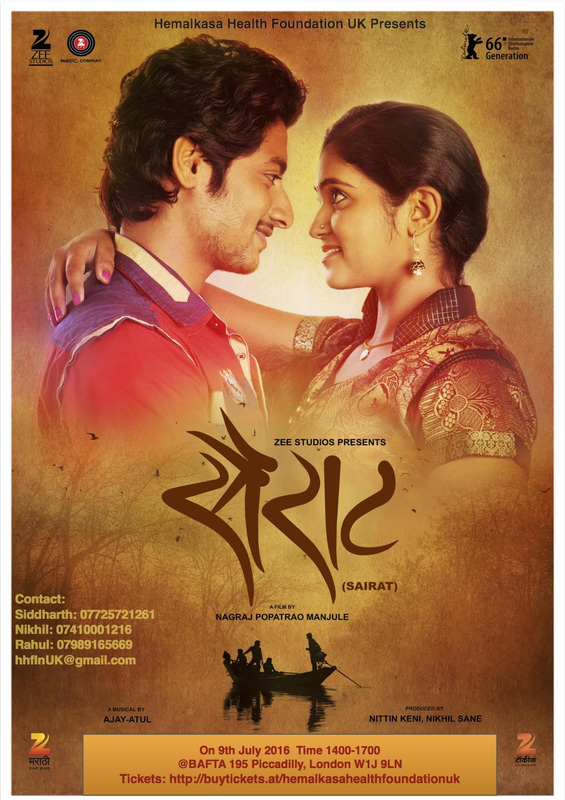 ---
'Hemalkasa' a biopic of Drs. Prakash and Manda Amte was organised for 29th November 2015 at Maidenhead. Please see details in the poster below.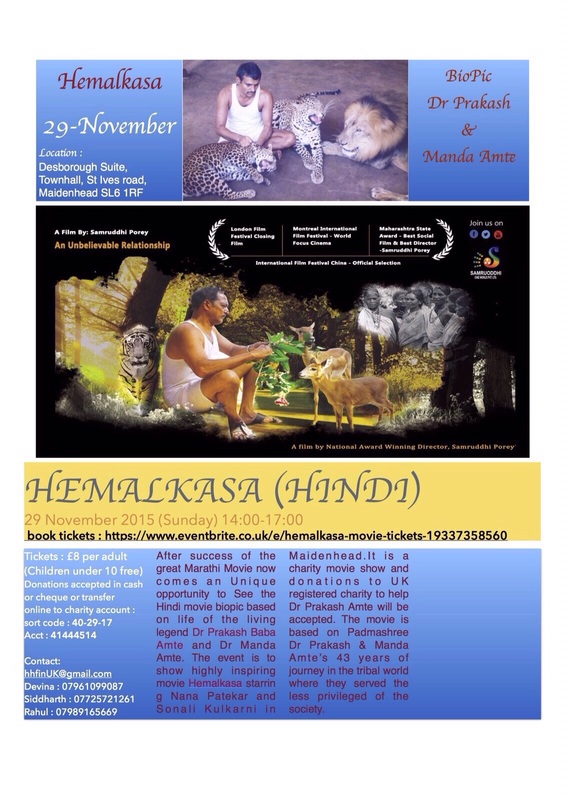 ---
Drs. Prakash & Manda Amte's UK Visit, 2015
Drs Prakash and Manda Amte visited UK in September 2015. Over £10,000 were raised during this visit. The details of programmes organised are as following -

1. Ashok Rokade and friends organised a charity function on 13th September 2015 (Sunday) in Hampshire.
2. A charity lunch took place on 19th September 2015 (Saturday) in Newcastle, organised by NEMA (North East Marathi Association). This informal programme was hosted by Sangeeta & Rohan Murkunde at their house. Documentary about the work of Amte family was followed by a question-answer session.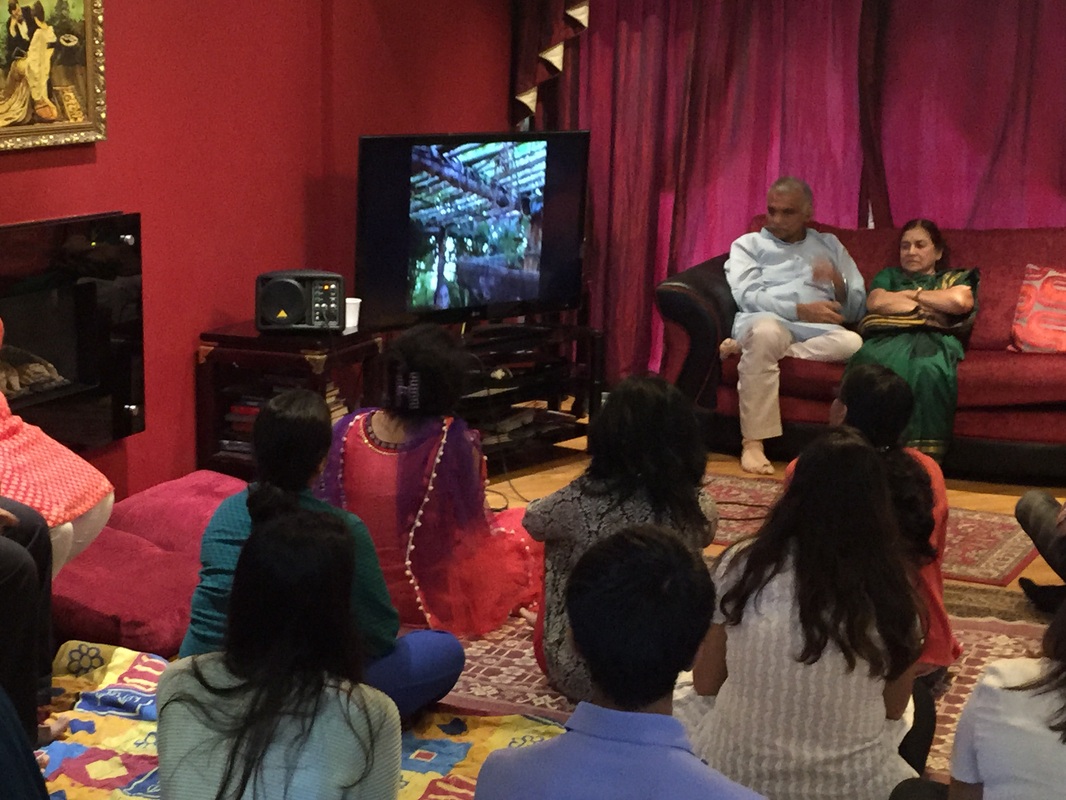 3. On the 20th Sept 2015 (Sunday), a programme at the Nehru Centre in London was held (see details & invitation below). The organisers of this programmes were - Rahul Karurkar, Sidharth Mukne and Rahul Chimbalkar. More that £10,000 were raised through this fantastic programme!
---
Music Programme for Fund-raising -
Hasaratein - Ghazal Ka Ek Haseen Safar
(Music Programme hosted by
Avishkar Performing Arts
) on 18.4.2015
The programme was very successful and fully soldout. The audience was treated to a innovative presentation of a ghazal mehfil interspersed with a storyline involving two individuals interested in ghazal. This technique was successfully used to explain the intricacy of ghazal format separating it from other poetry. The audience were equally involved with the story and at the same time exposed to some excellent quality ghazal renditions. Capstone theatre provided a fantastic setting with a wonderful audio experience for the audience.
Avishkar Performing Arts was able to raise £550 for HHF through this programme
.
---
Dr. Prakash Amte jointly win prestigious "Lokmanya Tilak Award" 2012:
Dr. Vikas and Prakash Amte have both been conferred upon this year's "Lokmanya Tilak Award". The event was held at Pune on 1st August at Tilak Smarak Mandir, Tilak Road at 6.00 pm at the hands of Hon. Shri. Sushilkumar Shinde, Union Power Minister. This prestigious award is instituted by the Lokmanya Tilak Smarak Trust from the year 1983 and is conferred on a person who has dedicated his/her life in the cause of upliftment of the country with a view to strengthening democratic principles for welfare of the Society. This Award is presented in the public function every year on 1st August i.e. the Death Anniversary of Lokmanya Tilak. The Award consists of Memento, Citation and a Cash Prize of Rs. One Lakh only. To view all of Dr. Prakash and Mandakini's awards please visit -
http://www.lokbiradariprakalp.org/awards-en.html